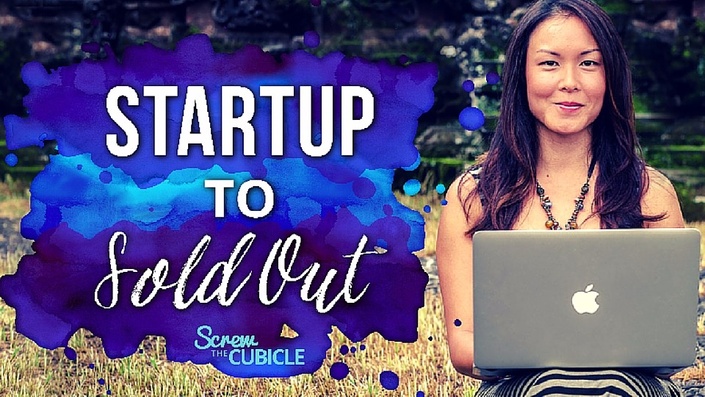 Startup to Sold Out
For Service-Based Solopreneurs: Create Your Business, Launch an Offer, and Find Customers in 8 Weeks
Watch Promo
Get the course!
Calling all budding coaches, consultants, and service-based solopreneurs:
If you're someone who wants to work for yourself and turn your skills into a business, you and I need to talk.


You want to make money helping people, and you want to start doing work you love. That you know for sure. What's puzzling you is how to get started.
You might be uncertain about whether anyone will pay for your services. Or unsure about how to turn the skills you've developed in previous jobs into your very own business.
I'm here to rescue you from the haze of what to do next, and guide you to create a business that offers something your customers want (so you get paid, OK?).
It's time for you to turn your skills into a business and help others with the expertise you've accumulated on your path.
"Startup to Sold Out helped me turn my idea into an online coaching business that I love. Lydia showed me how to draw on my best skills to create a business that serves the needs of my clients and allows me to do it in my own unique way. Her course guided me step by step through everything I needed to do to be ready to launch my business with confidence. She is such an expert in helping people navigate the tricky gap between having an idea and actually making it happen."
- Diane.H, Australia | www.wordandwing.co
To get the confidence you need to launch your business, you want to get full clarity on:


WHAT YOU DO - The problem you solve in your business
WHO YOU DO IT FOR - The ideal customer that urgently needs your help
HOW YOU DO IT - Your unique process and transformation that leads people to results
WHY YOU DO IT - The purpose and story behind your work that connects to your customers and wins their trust.
What I'll be teaching you to get you rock n' roll ready to launch your business:

MODULE 1: Master the Foundations of Your Business - You know how they say that every house needs a solid foundation? So does your business. You'll learn how to lead with your key strengths that your customers count on you for, and share the story and purpose of your work to connect authentically with the people you're meant to help.

MODULE 2: Identify & Connect to Your Ideal Customer - You'll dive into understanding the types of people that will be drawn to your business, understand their perspectives and their world, and how to use it to help you develop solutions they need.

MODULE 3: What Problem Do You Solve & How Do You Solve It? - You'll pinpoint the valuable problems you solve with your services that's related to your big picture theme, and define your unique approach to create results for your clients.

MODULE 4: Craft Your Customer's Journey & Experience - This is where you find out where your ideal customer is at, and understands things from their world to create something that really matters to them (and that they'll value!). Bonus: you get to also create boundaries around your work so you are not everything to everyone.

MODULE 5: Develop Your Business Blueprint - You'll identify the "framework" of what you DO for your customers and learn to develop your process of working with them. We get into the "meat" of what you'll offer, including necessary prep work before their first interaction/session with you, and the sequence of steps that you'll be leading them through.

MODULE 6: Beta Test Your Offer with Real Humans - Invite people to be enrolled in the "beta" of your offer, so you can receive testimonials and confidence by working with real humans. Learn how to organize your beta process to help you refine your offer to be ready for launch.

MODULE 7: Package & Pricing - Learn to use the feedback from your beta customers to refine your main offer and give you opportunities to craft additional offers that can be pulled from the strongest parts of your main offer. Need to know what to charge? I got you covered.

MODULE 8: Market Your Offer - You'll learn your best way of giving value to lead people to buy what you have to offer. Discover how to find the marketing channels to be in front of your audience, and know what to say to them to be an authority in your expertise. Finally, you'll be crafting your Weekly Marketing Action to get yourself out there and be seen!
BONUS TRAINING INCLUDED:

Bonus #1: Create an Opt-in Incentive to Lead to Your Offer
You'll be creating ideas for your opt-in/lead magnet, and learn how give away amazing value right from the get-go to give your customers a taster of your main offer.

Bonus #2: Online Tools to Run Your Business From Anywhere
Grab my favourite online tools to use to be able to run your business just from your laptop! Mostly free or very affordable ways to enhance your customer's experience as you work with them virtually.
"As a former writer and journalist, I was used to being paid by the word or by the article, the idea of creating packages to sell, was completely beyond comprehension. This course has shifted my thinking completely. Not only is Lydia great at helping you figure out what skills you have that people will buy, but she will take you step-by-step through the process of creating a package and taking it to market: the strategy, the tactics, and the tools.
And it works. To my amazement, clients have emerged wanting to buy products that I have created."
- Clare Harrison, United Kingdom | The Story Scientist
When you sign up for the course, you'll get:


★ 8 weeks of step-by-step guided videos and instruction to package your skills, create an offer to sell, and market your new creation

★ The exact steps of what I use to create every one-to-one program, classes, and courses, that helped me leverage my time and expand my work to more people

★ Weekly action that keeps you accountable to move forward with your business idea

★ Ready to use templates to help you gain real information from your ideal customers and invite them to work with you

★ Tools and strategies I use personally to run my business from anywhere that are simple to use and affordable (and mostly free) so you don't have to spend a bunch of money during startup phase
This course will guide you every step of the way to develop your own business from what comes naturally to you. Completing this course gave me confidence in how my own skills and strengths bring unique value to my own clients. I have the direction to launch a successful, online business and the steps involved in how to get there. Without her, I wouldn't have had the courage to start my own journey to finally "screw the cubicle."

- Wyeth.K,

Canada
Your Instructor
Hi, I'm Lydia!
I'm a Small Business Strategist, Work Reinvention Coach, Speaker, and a 'Midwife For Meaningful Work'.
As the founder of Screw The Cubicle, my mission is helping solopreneurs, consultants, freelancers, and changemakers to create meaningful work and launch ideas that could change the world.
My approach provides an intuitive understanding of your strengths, personal goals, and opportunities to help you create your best work with a business you can love.
I strive to help you create your business with more ease, more meaning, more impact, more YOU. We can do it together by intentionally designing the way you approach your work, deliver value, and do business in your genius-zone.
My work have been published in Forbes, The Huffington Post, and featured in Elle Canada and The Telegraph newspaper.
Frequently Asked Questions
When does the course start and finish?
The course is completely self-paced online course - you decide when you start and when you finish.
How long do I have access to the course?
How does lifetime access sound? After enrolling, you have unlimited access to this course for as long as you like - across any and all devices you own.
What if I am unhappy with the course?
Startup to Sold has a 14 day money back guarantee. If you reach out within 14 days to let me know that this course aren't helping you create your business offer, I'll give you a full refund. If you want a refund, you will have to show that you went through the content, completed the worksheets, and implemented the steps in this course. Since this course will only work if you do the work, and as long as you've done so, you'll be able to request a refund. I've implemented the same steps in my own business, as well as coached global customers to launch their very own business with these exact steps.